14th Convocation
Hold High Expectations for Yourself
Soraya M. Coley
President
California State Polytechnic University
(Cal Poly Pomona), USA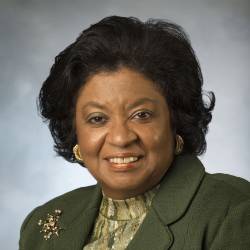 Graduating Speech
Hello everyone and thank you for inviting me to participate in Ganpat University's 14th Convocation. I want to recognize and thank:
President and Patron-in-Chief Patel,
Vice-Chancellor Sharma,
the Board of Governors,
the Academic Council,
the Members of Trust
the entire university administrative leadership
the executive deans and deans,
and the principals, chairpersons, and staff.
You are engaged in life-changing work that will reverberate for generations to come. And I recognize all the students, families, and friends gathered. I am truly honored to share this occasion with you. Before I share my prepared remarks with you, I feel compelled to acknowledge the challenges presented by the coronavirus pandemic to communities all over the world. The latest numbers documented by Johns Hopkins University stagger our consciousness: 74 million cases globally; 1.6 million lives lost, and countless more impacted. To all those affected, to all those who have lost loved ones, I offer you my condolences and my hope for better days ahead. Let me again reiterate what an honor it is to be a part of your convocation ceremony.
Your achievement that we celebrate today is the next milestone on a journey that began many years ago. Your very first years of schooling, and even before, planted the seeds of today's accomplishment. Countless hours of reading, writing, and studying have led up to this point. And now, you are ready to achieve even greater things, carrying on the rich tradition of Ganpat University. I am very grateful to be a part of this moment. Of course, you didn't get here completely on your own. Family, friends, spouses, loved ones, teachers, mentors, and more all played a role. I want to take just a moment to recognize them and how their support and sacrifice are also being honored today. I, of course, bring you greetings from the students, faculty, and staff at Cal Poly Pomona University. We are located in the heart of Southern California in the western United States where we have been considered a leading American university for more than 80 years.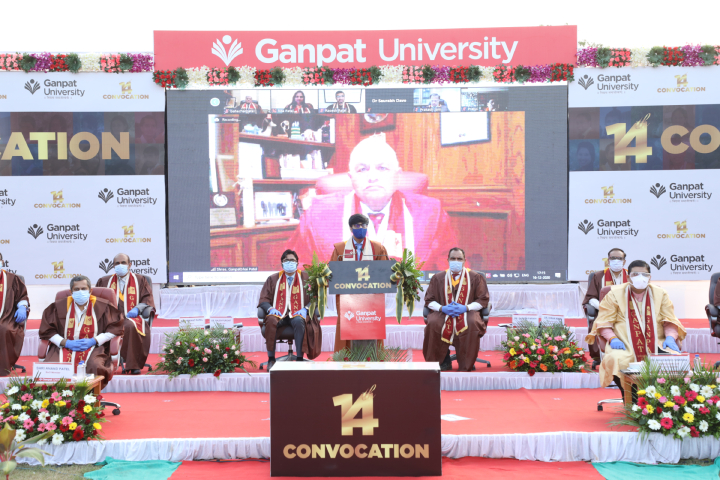 I have the honor of serving as its fifth University president. I'm here to tell you that Cal Poly Pomona and Ganpat University are two universities that are very much alike. Cal Poly Pomona and Ganpat University are both universities that focus on the "doing" of learning. At Cal Poly Pomona, we call it the "polytechnic advantage." This approach to learning and scholarship distinguishes us from other universities and makes us an epicenter for creativity, discovery, and innovation. We believe that it is not sufficient to only acquire the knowledge associated with the courses. We assert that learning is deepened and students are better prepared when they have the opportunity to apply the learning and demonstrating the knowledge
acquired. And we believe that this educational experience provides students with the essential knowledge and skills to succeed and achieve your dreams regardless of the field you pursue. Cal Poly Pomona and Ganpat University are also both institutions that believe deeply in the transforming power of education. We believe that people are defined not by their available resources but by their resourcefulness. The transformative power of education has been the inspiration of your patron-inchief and president, Mr. Ganpat Patel. I like to think that he gained that knowledge while he was an engineering student at Cal Poly Pomona, but clearly it has been the 125 driving force of his entire life. We are honored to call him among our alumni and it was a tremendous privilege for Cal Poly Pomona to nominate him for the honorary doctorate he received from the California State University this past year. Graduation is a special moment in your life. It is a turning point. As president at Cal Poly Pomona, I have the opportunity to speak the graduating class each year. What I share with them are five insights that I've gained over four decades as an educator.
I'd like to share them with you today:
The first is to "hold high expectations" for yourself. Set the bar high and exercise the discipline needed to achieve success. Through your studies at Ganpat University, you've already shown you're capable of great things. Now try and do even better.
The second is "take action." Don't let a fear of failure inhibit you. Move in the direction of your expectations, and you will succeed. There will always be obstacles. I find it best to always treat challenges as opportunities to improve.
The third is "be persistent." Know that every failure holds a lesson as well as the seeds of success. As the famed Albert Einstein once said, "Failure is success in progress." Of course, this is much easier said than done, but never let failure dictate your future.
The fourth is "maintain options." Look for opportunities to grow and adapt to changes throughout your lifetime. There is always more to learn, indeed no 126 characteristic will serve you better than being a lifelong learner.
And finally, "discover your purpose." Regardless of where you are in life, your talents and gifts are still developing. Be open to new experiences and make choices that align with your curiosity and passion.
I'd like to expand on this last point. To me, discovering a purpose requires us to consider what we can achieve beyond ourselves and our immediate interests. Ganpat University was built around a profound mission, "Social Upliftment Through Education." This powerful goal requires us to discover what our purpose will be. It also puts your university into the legacy of higher education reaching back to the earliest such institutions. The world's oldest university is the University of Bologna (buh-LOAN-e-yuh), located in Italy. But you may find it interesting to know that the world's oldest institution of higher learning didn't start as a school at all. It was an organization dedicated to serving societal needs. Started in 1088, the University of Bologna is widely accepted as the world's first university. Indeed, the term "university" as an institution of learning was coined as part of the evolution of the University of Bologna. As one of Europe's centers of intellectual and cultural life during the onset of the High Middle Ages, Bologna drew students from across the continent to study with prominent scholars. Each of these scholars worked freelance rather than as a joined entity, with students paying fees. But the foreign students coming to Bologna to study faced a problem. The local laws held that an individual could be held liable for the unpaid debts of a countryman. To manage this collective punishment quandary, the various nationalities formed together into mutual aid societies called "nations," where the members could pool resources when one of its members owed a debt. Finding success with their collective actions, the "nations" took it another step further by joining with folks from other nations to spread the risk even further. These coalitions of nations were given the moniker "universitas" from the Latin meaning "a whole" or "a corporation." The universitas was democratically governed with major decisions settled by majority vote. Additionally, the universitas handled internal disputes and established welfare programs to support its members. The universitas enjoyed considerable bargaining power with the city and eventually received civil and criminal jurisdiction over its members. This collective bargaining power translated to the students' relationships with their professors as well. Acting as an organized coalition rather than paying individual fees to professors, the students could dictate class subjects, schedules, and professorial salaries.
Soon the universitas was hiring individual faculty, compared to the previous freelance arrangements, and the "University of Bologna" was born. A university with society's needs at its foundation. And while universities have evolved into massive engines of knowledge, their potential for social upliftment is stronger than it's ever been. But that impact doesn't just happen on its own. And what is more, what does it look like? Allow me to reflect on this question by sharing an example from American history. In 1947, the civil rights leader Martin Luther King Jr. was an 18-year-old college student in a city called Atlanta. Already intensely focused on critical issues related to equality and justice, he wrote an essay in the campus newspaper titled, "The Purpose of Education." Dr. King argued that education solely focused on the pursuit of gaining intelligence is grossly incomplete. Instead, the goal of true education is "Intelligence plus character."
Dr. King concluded that, "complete education gives one not only power of concentration, but worthy objectives upon which to concentrate."
I see this "character" and "worthy objectives" in each of you. And by combining your character with worthy objectives, the result is the social upliftment that so typifies Ganpat University. Character and worthy objectives mean that we look beyond ourselves. This is the true purpose of education. It can give us the knowledge, the tools, and the motivation to make a difference.
And when you expand that opportunity, working to help as many students as possible to succeed, you create something that can change entire communities, nations, and the world. So, I have one humble request: that you seek out the "worthy objectives" that will allow you to leverage your education and knowledge to help others, to build communities, and to create positive change. Truly, your potential is limitless. You are carrying forth a legacy of empowerment through education that began almost a millennium ago. And fortunately, it's up to you keep it going for just that much more.Thank you again for inviting me to participate in today's ceremony. I offer you — and all your family, friends, and loved ones — my heartiest congratulations on this so truly deserved accomplishment.
Thank you.