11th Convocation
LIVE UPTO YOUR OWN EXPECTATIONS, NOT OF OTHERS
Dr. Malini V. Shankar, IAS
Directorate General of Shipping & Special Secretary to Govt. of India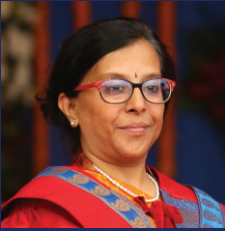 Graduating Speech :
Dr. Malini V Shankar is an officer of the Indian Administrative Service, currently posted as the Director General, Shipping, Government of India.
Dr. Malini V Shankar obtained her doctoral degree in Public Policy (Institutional Economics) from the prestigious Indian Institute of Technology, Madras (India) and Management degree from the Asian Institute of Management, Manila, the Philippines. She also holds a Master's Degree in Chemistry from Mount Holyoke College, Massachusetts, USA.
She had her professional mid-career training at the IIAP (Institute International, d'Administration Publique), in Paris, France, from where she obtained a diplome in International Economics. She was also nominated by the government of India to the Harvard University for training programmes on two occasions.
Dr/ Malini Shankar has been a recipient of several academic recognitions – National merit Scholarship of Government of India, International Fellowship for Exchange Studies in the USA, the Phi Beta Kappa Scholarship for Higher Education, CIDA Scholarship for Management Studies.
In recognition of her professional achievements, she was a member of the Government of India Task Frce for Water Policy, and a member of sub Task Force on Urban Water Management.
It gives me great pleasure to be amidst you on what is a milestone day in your life. As you leave the portals of this premises that you have doubtless become fond of, you will be overcome with an amalgam of emotions – excitement about what lies ahead, nostalgia about what you leave behind, a sense of fulfillment at having accomplished your ambitions, a tinge of regret of something left undone or unsaid. Many of us remember. this day with joy and glee, several decades later. And so will most of you.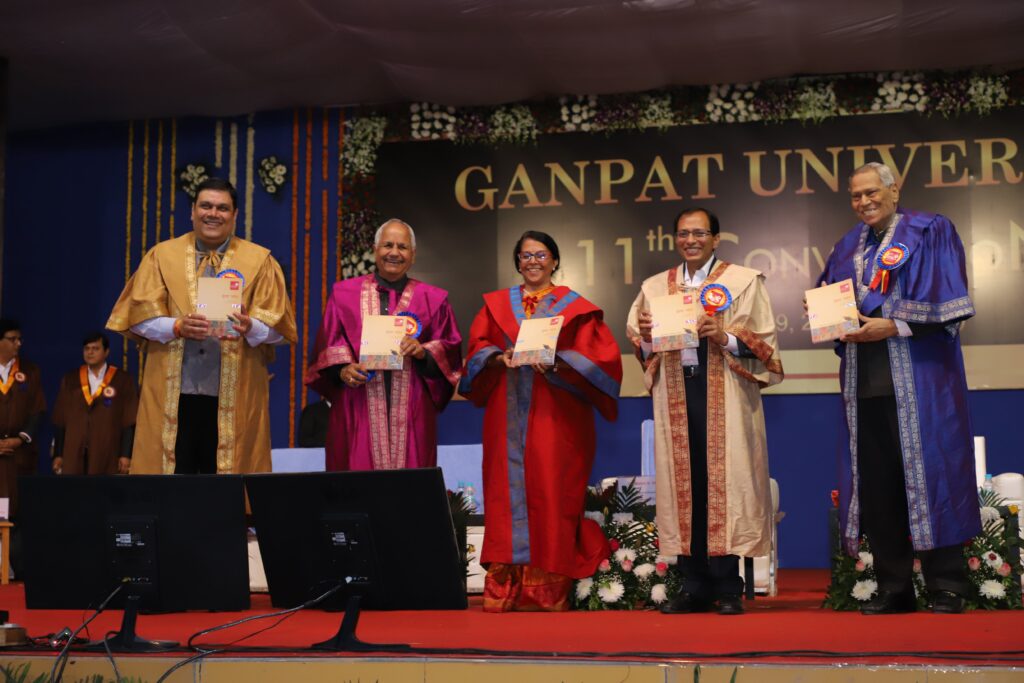 I do not wish to disturb your string of reminiscences with homilies. But I do wish to leave you with a couple of thoughts to ponder.
As you leave the safe and cosy environs of this campus (it is only in retrospect that you will realise it was indeed a cosy atmosphere, notwithstanding the strict rules and the exacting work), you will have the confidence of youth that will let you believe you can conquer the world. Some of you will continue to progress in your chosen field of specialization, and others will get off that track; yet others will explore more adventurous paths. Chetan Bhagat for instance left management to pursue his interest in writing, Rahul Dravid veered off engineering to seek his success in cricket. Walt Disney was a newspaper editor. People have quit regular promising jobs to follow their heart – they've engaged themselves in film making, baking, backpacking….
What they all did is to follow their heart. Listened to their inner self. You cannot fail if you recognize your inherent strengths and build upon it. You will delve, explore, research, learn, seek knowledge and excel. If you love gardening, be the best gardener. If you write, strive to be the best writer. Live up to your own expectations, not of others.
Our ultimate goal is to be happy. A recent Harvard study, which examines almost a century's worth of data, reveals a simple way to be happier and more successful. The study tracked the physical and emotional well-being of 268 male graduates from Harvard, as well as 456 poor men growing up in Boston from 1939 to 2014. Multiple generations of researchers analyzed brain scans, blood samples, self reported surveys and interactions of these men to compile their findings.
The conclusions are simple. Good relationships keep us happier and healthier. Spend more time with happy people. Try not to yield to negative perceptions. On anything.
This state has just concluded elections to the legislature. I do not know how many of you got the opportunity to vote. I grew up in an era when many elite urbanites considered it infra-dig to exercise their franchise. It is easy to forget the struggle that our previous generations had undergone to achieve independence for our nation.
While we agitate and agonise over the ills of our society and politics – the corruption, the power games, the dust and dirt, the rat race for wealth and fame, the one achievement that we often tend to forget, the single greatest success of India is that we have remained a vibrant democracy. If we care to look around our neighbourhood, near and far, we will realise the power of this achievement.
We may not be a perfect democracy. I am aware that our youth desire a better society an ecosystem in which you can work hard, compete, grab opportunities and succeed. For a nation, turning 70 is like entering the teen years. Rebellious times. Search for new horizons. Our society is a being in transition, moving from the old to the new.
Cherish the freedom, the independence, the hope, the diversity. Respect these aspects, guard them fiercely. Be proud of the nation, of the institute, of your job, of yourself. Make your parents and loved ones proud of you even as you realise your ambitions.
Wish all of you almighty's blessings in each of your endeavours.